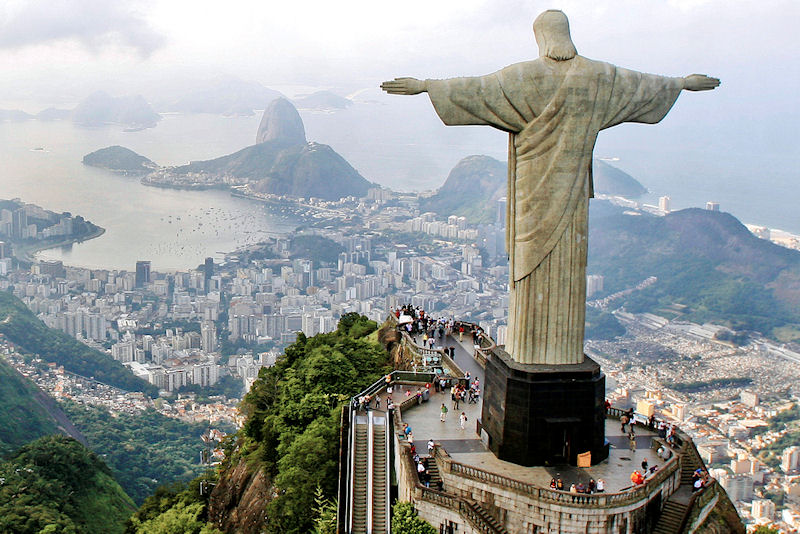 (Author's Note: Jane and I lived four magical years in Brazil. At the time, inflation ran hot, reaching a peak of 80% per month. Brazilians joked that a taxi was cheaper than a bus because you paid at the end of the ride. "Dreams of Aurora," was inspired by our time in Brazil, first published by Milk Sugar Magazine in February 2013.)
Like shimmering lures, the turquoise sea rippled with bright flashes, and the rush of surf swelled into white curls that rolled forward and transformed into scallop-shaped iridescent puddles on a sandy shore. Michael snapped pictures of a dark-skinned girl with black hair wearing an orange, dental floss bikini. She teamed with a man in a two-on-two beach volleyball match. The game ended, and the girl walked to an outdoor shower. Rivulets like silver trickled down her body as she brushed away sand. Behind his lens, Michael smiled. A man neared him and said, "Bonita, não é?"
Michael's head snapped to face him. The Brazilian had slicked down brown hair. He was short, deeply tanned, and wore ragged shorts and blue thongs. Like Michael, he was in his thirties.
The man eyed Michael's "I Love New York" tee shirt, and spoke English. "Beautiful, isn't she?"
Michael moved away.
The stranger closed the distance. "My friend, it's natural. If a man doesn't want Aurora, he'd look at pretty boys, don't you think?" He laughed.
Aurora finished her shower and patted herself dry with a blue-yellow-green Brazilian flag towel. As she brushed and threw back her hair, she saw the stranger and exclaimed. "Andrade!" She pronounced the last "d' like a "g" in the cariocan dialect of Rio. She kissed him on each cheek. "Como vai? Tudo bem?"
Andrade released Aurora. She turned toward Michael and extended her hand, "Aurora, Muito prazer."
"Michael. My pleasure." Her hand was silky.
Aurora asked in English, "Did you enjoy the game?"
"Yes. I hope you don't mind, I took some photos." Michael breathed in Aurora's coconut scent. Her skin glistened like brown butter.
Aurora said, "That camera looks professional."
"I'm a photojournalist for a New York magazine. I just spent a few weeks in the Amazon."
Aurora said, "You'll have to show us your pictures."
Andrade said, "Why don't you join us tonight. We're going to Club Carioca. We can meet you there. Any taxi will know the place."
Andrade's invitation flashed yellow in Michael's head, but his eyes were on Aurora. "Sure."
"Okay," Andrade concluded, "We'll see you later. Bring cash. They don't take credit cards."
Aurora said, "Ate a noite." As she left with Andrade, she smiled over her shoulder.
The surf rolled like thunder. Michael recalled his appointment with Dr. Bass at Sloan Kettering in New York.
Sam Bass had a domed head and bulging belly; the nurses called him Buddha, but he was no laughing Hotei.
Dr. Bass asked, "Is there any family we should bring into this discussion?"
Michael said, "There's just me."
Dr. Bass spread a series of x-ray pictures of Michael's brain over a light box. "Michael, the location of your tumor doesn't give us the option of surgery. I think a concentrated dose of radiation will shrink the tumor."
Michael's gut sickened. Thoughts ricocheted in his skull. Why me? I'm too young. It's not fair. He dug fingernails into his palms.
He took a deep breath. "How long do I have?"
Dr. Bass snapped off the light box. He sat on a stool opposite Michael. "Some patients live for years."
"How will I know that I'm near the end?"
"Severe headaches, vivid dreams."
#
The music from Club Carioca could be heard a block away before the taxi dropped Michael at the curb. Inside, the disc jockey at the far end of the room was flooded with red light. Michael felt the pound of the beat in his teeth. The dance floor overflowed with couples under a white strobe light that gave the effect of stop-motion video. Michael spotted Aurora and Andrade sipping drinks at a small table. Aurora wore a sleeveless white shift that stopped at her thighs and open-toe, strapped heels. She jumped up and gave Michael a kiss on the cheek. She smelled fresh, like the ocean.
Andrade sat back. "Have a caipirinha."
Michael asked, "What's in it?"
"Sugar cane liquor, crushed lime, sugar and ice. It'll kill you."
Michael said, "Sure." He pulled his chair closer to Aurora, and she linked her arm in his.
Aurora said, "I've never been to the Amazon. What's it like?"
"A bright blue sky, sprinkled with an infinite variety of calling birds. A pitched tent in the shadow of a golden-orange sunset, and the night call of unseen creatures. The smell of raw earth and fragrant flowers."
She said, "How wonderful."
Michael said, "It was unreal. Tell me about you."
"I study dance and the performing arts at Rio University. I've had small parts in TV novellas since I was seventeen. Next month at Carnival, I'll compete for Queen of the Drums. Whomever the judges select will be offered a lead role."
"You'll win for sure."
"Well, that's my dream. It isn't only about me. Our temple helps orphaned children."
"Hey, I'll write you a check. What denomination is your temple?"
"Candomblé. It's a faith of personal devotion. My saint is Yemanja, goddess of the sea. Sometimes, I can see her."
Michael raised his eyebrows. "I thought mystics wore hair shirts."
Aurora smiled. "I sound crazy to you?"
"No. My mother was a devout Catholic. When she was ill, she had visions of the Virgin Mary. Her death was painful, and I stopped talking to God."
"I'm sorry. You should come to our temple tomorrow."
"I'd like that."
"How long will you be in Brazil?"
Michael smiled. "I've rented a place. I'll stay awhile."
The deejay cried out, "Lambada," and played Kaoma's hit. Aurora gave Michael a sly smile and pulled him behind her onto the dance floor. With her back still toward Michael, Aurora started swaying her hips in double pumps left and right, arms in the air. Aurora turned and moved in close, taking his left hand and wrapping his right around her body. Immediately, she straddled his right leg and bent back at the waist in two successive dips. On the next two back dips, Aurora's right leg rode up Michael's inner thigh. He felt the tickle of sweat run down the small of his back. She turned and backed her butt into him, swaying to the beat. Aurora faced Michael and continued her double pumps until the music ended. She towed him back to the table.
Andrade's face soured like a boy who'd lost his toy. He said to Aurora, "We need to go."
Michael's heart thumped. He took a gulp of his third caipirinha, and asked Aurora, "Can't we go somewhere, just the two of us?"
Andrade's face flushed. He leaned toward Michael. "Aurora's with me."
Michael glared at Andrade. Aurora sat like a pensive angel.
Andrade smirked. "Aurora and I will attend a ritual. You heard of Macumba? There's a terreiro, you know, up in the hills in the favela. Want to come?"
Aurora gave Michael a slight negative shake of her head.
Michael asked, "Macumba? Isn't that witchcraft?"
Andrade smirked again. "Are you afraid?"
Michael stiffened.
Andrade said, "We're going. Pay the bill. We want to be able to come back here." Andrade rose from the table and with a "vamanos" he jerked his head at Aurora.
Aurora's eyes shifted between the two men. She whispered, "Sorry," to Michael, gave him a peck on the cheek, and slipped her phone number into his hand. She left with Andrade.
Michael ran his hands through his hair. He swiveled his chair toward the door and realized that they were gone. Michael slumped back and waved his arm for the check.
Back in his apartment, Michael fell into bed. In his dream, he was gagged, naked, and tied tightly by his hands and feet to a planked wall inside a thatched-roof shack, dimly lit by candles. Aurora faced Michael wearing her white shift. Her blue eyes stared as she swayed slowly to the beat of Brazilian drums, a driving Samba rhythm of rumbling surdos and pops of caixas. Aurora dropped slowly to her knees. Her hands slid up Michael's inner thighs. From the shadows, Andrade appeared. He wore the leopard skin and fur headdress of an African chief. Michael saw the glint of a wide-blade knife in Andrade's hand. Michael pulled at the cords around his wrists. Andrade grinned and announced that Michael must pay a price for lusting after a Candomblé priestess. Andrade handed the knife to Aurora and Michael sat up, awake. His heart pounded. He heard the blood flow in his ears. The sheets were dank with sweat.
He thought, I need to call that girl.
#
Michael and Aurora arranged to meet in the garden outside the Candomblé temple. An ocean breeze and the shade of large, vine covered palm trees cooled the day. Nearby, water gurgled over rocks, and twinkled in the sunlight. The air carried the fragrance of jasmine. Birds called from the trees
Michael asked, "How did you become involved in Candomblé?"
Aurora said, "My parents are devotees, and as a child, they took me to rituals. One night, I had a dream about a lady in blue."
Michael smiled.
Aurora took his hand. "Please don't think me naive. I live in a favela. Drug addicts, boy soldados carrying guns, the stench of a dead body covered in garbage and fed on by birds." Aurora shook her head.
Michael said, "I don't understand your friendship with Andrade."
"Andrade was a street kid who stole to survive. He was one of those children killed by off-duty policemen in the pay of business owners who find them a nuisance. In the favela, my parents are vulnerable, and Andrade protects us."
Michael said, "I could do a piece on the favela. The publicity would help us raise money for the children.
Aurora said, "That would be great."
A group of women emerged from the temple wearing flowing blue and white dresses. They welcomed Michael and Aurora with kisses. Everyone entered an outdoor courtyard filled with pink angel trumpets and a shrub with yellow blossoms that looked like parted hands. They carried the scent of banana. A stone altar had been fashioned around an image of Yemanja. A group of children under the temple's care burst into the courtyard from a small wooden house. Aurora bent to them, and the children mobbed her. A black girl of six in a blue dress limped over to Michael and raised her arms. He lifted the child and kissed her cheek. She was very light, and he wondered if she had enough to eat.
Michael sat on the ground with the girl in his arms. Aurora smiled and talked about Yemanja to the children. In the small courtyard, cicadas sang, hummingbirds danced in the air gathering nectar, and the sky dazzled blue in a bright sun reflected in a small child's eye. Near the temple gate, Michael spotted a man pointing a camera in his direction. Probably a tourist, he thought.
#
Andrade entered a small cinder block room with blacked out windows. A shaman knelt on a small jute mat and lit candles, bathing the conga altar with a golden, reddish glow. He turned toward Andrade. "This will be expensive."
Andrade's face flickered black and red in the dim light. "I want the spell to be potent."
"Why don't I invoke Pomba Gira? She will make the woman love you."
Andrade glowered.
The shaman shrugged and donned a black and red brocaded robe and a dark felt fedora, smoothing the large white feather sticking out of the band. He said, "All right, I will call out Exu."
The shaman clapped his hands twice. Two young men, barefoot and naked to the waist, entered the room carrying drums. At a signal, they began a slow beat. Andrade was directed to sit aside the altar. The priest retrieved a pitchfork and placed it at the center of the shrine, then sprinkled some incense onto glowing charcoal held inside a brown ceramic bowl. The smoke quickly filled the room with a sweet, pungent scent. Andrade handed the shaman a photo of Michael, which was placed into a second bowl sprinkled over with grainy farofa meal.
A second red and black robed witch doctor entered the room carrying a squirming black rooster held by the neck and legs, its claws bound with a red ribbon. The first priest began a rhythmic chant and picked up a bottle of cachaça, sugar cane liquor, taking gulps as he swayed in front of the altar. He began to convulse. The beat of the drums became louder and faster, and his eyes rolled back to reveal the whites. The second shaman held the rooster against the cement floor, took a large, flat-blade knife from his belt and hacked off the head of the cock. The blood spurt was directed into the bowl with Michael's picture. A smell of rotten flesh filled the room. When the blood flow subsided, the bird's claws were sliced off and with the severed head, splashed into the red pool, and the gory bowl was moved to the foot of the altar. The second shaman lit a cigar, bent to the bloody mass and blew smoke through the tip until a large gray plume clung to the contents. The shaman took a series of mouthfuls from the bottle of cachaça, and spit them out in spray bursts over the cock's remains.
The first priest calmed from his trance. He took cowry shells from his pocket and cast them at the foot of the altar. He grunted in satisfaction and turned to Andrade. "Exu has accepted your sacrifice."
#
Michael's, "What the hell," brought his maid, Maria, running into the living room. Maria, gray hair pulled into a tight bun, had been a nun, who fell in love with a priest, and they left their vocations to marry. Michael was her first employer.
From inside the parcel on his table, Michael held a clump of black cock feathers. The contents stank like sewer gas.
Maria gasped, "Mãe do Deus," and brought her hands to her face. She crossed herself.
Michael dropped the bloody mass back into the package, and Maria ran into the kitchen, bringing back paper towels. Michael wiped his hands. "Did you see who made the delivery?"
Maria recoiled. "I didn't. Por favor, I'm sorry."
"Never mind." Michael dropped the parcel inside a trash bag, and wiped his hands. "Don't worry. It's some idiot sending me a practical joke."
Maria's eyes followed Michael's action. "No, Senhor. This is evil."
A sharp pain triggered in Michael's skull and tears came. He brought hands to his face. "Oh, God." He hadn't wiped off all the blood, and a smudge of red stained his forehead.
Maria left, holding the bag at arm's length.
The phone rang, Dr. Bass in New York.
"Michael, I hadn't heard from you. How are you doing?" Bass asked.
Michael, nearly blind with pain. "Not so good. At the moment, I'd like to cut off my head."
"Maybe, it's time to return to New York?"
"I met a girl in Rio. She's a Candomblé priestess. Perhaps, I'll take a faith cure."
Bass said, "A few experimental treatments are still open to us. Do you really want to spend precious time involved in voodoo?"
"Voodoo has its rewards."
"Michael, the final innings of this thing will be difficult. You'll need twenty-four-hour care. I can recommend an excellent facility in New York where you'll be treated with dignity."
#
At dusk, Michael and Aurora sat near the entrance of the temple. Michael's head pounded. "I need to pitch our favela story to my editor back in New York."
Aurora shifted on the bench. The corners of her mouth turned down. Her voice was barely audible. "When will I see you again?"
"I'm not sure."
Aurora faced Michael. "You're leaving for good. What did I do?"
Michael's eyes throbbed. A sliver of sun was setting on the hills. "There's something I need to face on my own."
Aurora opened her arms, "Please, don't leave.
#
Michael was asleep in a New York hospital bed. From the sea in his brain appeared the finely featured face of a woman. She rose from the surf, and the brine sheeted from her body. Her long blonde hair curled in waves about her shoulders. She wore a diadem of white flowers that bathed him in the scent of jasmine. Her gossamer blue dress was almost translucent, and the ocean lapped her bare feet with white foam. Her mouth moved; Michael strained but couldn't hear the words. She metamorphosed into Aurora, radiant, with arms extended and tears welled. Michael's feet were stuck. He pulled at his legs to get them to move. He felt emotion in his throat. He tried to grasp her, but Aurora dissolved into mist like a faded photograph.
"Mr. Esposito." A black nurse with a Caribbean accent in royal blue scrubs had her hand on Michael's shoulder.
Michael's eyes fluttered open. He swallowed and pursed his lips. His tongue was sticky in his mouth. He moved his hand toward the plastic cup of water with a straw, and the nurse helped him. He sipped, and returned the cup.
She said, "Sorry to wake you, but I need to take blood. You feel a little warm." The nurse checked the morphine drip. "Are you in any pain?"
Michael shook his head.
The nurse twisted a rubber tourniquet around Michael's bicep. She tapped for a vein. "Little stick now."
Dr. Bass entered the room. He wore a dark business suit, and a stethoscope hung around the back of his neck like a snake. He asked, "Michael, how are you feeling?"
"I'm ready to return to Brazil. Maybe you can give me some pills for the trip?"
Dr. Bass's face clouded. He sat on the foot of the bed. "Michael, the morphine is giving you a buzz, so you're feeling energetic. I'm afraid it won't last."
Michael said, "You don't understand. Aurora's waiting for me. I'm not letting her down."
Dr. Bass kneaded his chin. "I can't release you." The doctor let out a breath. "Michael, we're near the end. Do you understand?"
Michael's face flushed. "What I understand is that I'm going to Brazil. If you won't help, I'll leave on my own. Nurse, please hand me my clothes."
Michael tried to sit up, but his arms wouldn't lift him. He fell back onto his pillow.
Dr. Bass stood, his face furrowed. He said to the nurse, "Let's keep him comfortable. If necessary, increase the morphine." Dr. Bass scribbled instructions on Michael's chart.
The nurse's eyes shifted. She touched Dr. Bass's shoulder and motioned for him to look at Michael.
Michael's face was bright; his eyes looked past them. His lips moved without sound, and his right hand was raised, gesturing, reaching.
Dr. Bass and the nurse turned to see who had entered the room. They couldn't see the lady in blue.