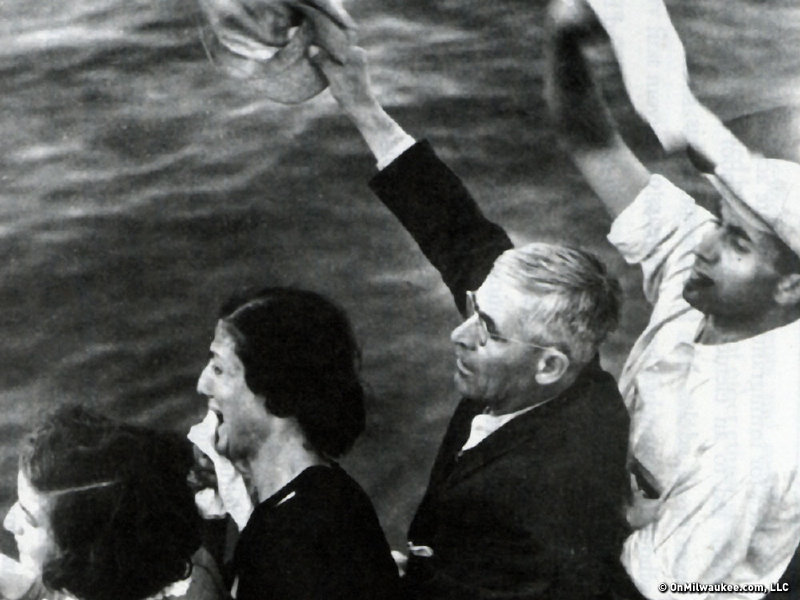 (Author's Note: Through Facetime, I've joined Book Clubs around the country, answered questions about Birds of Passage, and spoke about early Italian immigrant history. I'd be delighted to have Facetime conferences with other interested Book Clubs.)
The Erie Canal, completed in 1825, opened transportation for immigrants to the Mid-West. During the late nineteenth and early twentieth centuries, Wisconsin expanded from a frontier territory into a fully functioning state (1848) mainly due to migration and immigration. European immigrants played a major role in the State's settlement, the majority arriving from northern Europe and Germany, with a smaller number coming from southern and eastern Europe including Italians. Early Italian immigration to Wisconsin was usually indirect, the majority moving from Chicago.
Small Italian enclaves worked mines in Racine, and Kenosha, or labored on the construction of the Chicago, Milwaukee, and St. Paul railroad laid from Milwaukee to Madison in 1854. By 1915, Madison Italians numbered about a thousand.
In Cumberland Wisconsin, Italians were recruited from St. Paul, MN when The North Western Railroad line was being built. Many were immigrant farmers from villages east of Rome and stayed to work the land. The railroad stop became known as Cumberland, Hayward, Hurley and Hell for the many saloons and town brawls. By 1924 the Cumberland Italian community had expanded to one hundred sixty families and two-thousand people.
Milwaukee's Third Ward was recovered marshland. A devastating 1882 fire in what was a predominately Irish neighborhood, leveled 440 buildings, leaving nearly 2,000 homeless. The rebuilding effort opened the entry for immigrant Italians, sixty-five percent originating from Sicily, twenty percent from the Mezzogiorno, and fifteen percent from north of Italy. The great majority of Italian immigrants were peasant farmers or fishermen relegated to labor in steel works, foundries, tanneries, repairing and maintaining public roads, railroads, on coal docks, and factories. Wages were $1.50 per day. The first arrivals invited home village friends and relatives to immigrate. Once settled, wives and children followed. In the 1910 census, nearly 5,000 Italians were living in Milwaukee. The Third Ward was home to 29 Italian saloons, 45 Italian groceries, an Italian bank, and two spaghetti factories. A center of the Italian community, the "Little Pink," Blessed Virgin of Pompeii Catholic Church was erected in 1904. The sanctuary was demolished in 1967 for the construction of the I-794 freeway.
Actor, Don Ameche, and his cousin, Heisman Trophy winner and Baltimore Colt star Alan Ameche hailed from Kenosha, as did actors Al Molinaro and Daniel J. Travanti. Pianist Liberace came from West Allis. Social activist, Father James Groppi's parish was in Milwaukee.
Picture Credit: Italian Community Center, Milwaukee