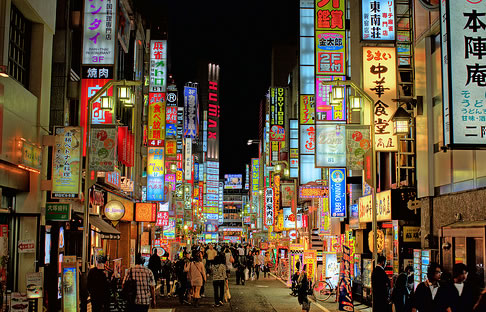 (Author's note: Voltaire's satire on optimism, "Candide," titled "L'Optimisme" in French was the inspiration for this piece.)
Gérard Petit's face was sour cheese. He peered over his half-frame reading glasses. "Another expensive, company-paid vacation?"
Marcel said, "Our Japanese clients require personal attention. Emails and phone calls aren't enough."
Petit tossed the signed travel authorization across his desk. "If this trip doesn't yield new business, we'll discuss accelerating your retirement."
Petit picked up the phone. Marcel understood the signal and left.
Marcel's flat was in the 16th arrondissement. He packed in his cream-colored bedroom.
His wife, Helene, high cheekbones and cold brown eyes, came up behind. "You're leaving again?"
"I'm sorry, Helene. An account in Tokyo is in jeopardy. I'll be away a week."
"If it isn't travel, it's working late or business dinners."
"When I get back, why don't we take a little time for ourselves in Provence?"
"Mother's not well. I don't want to be away from Paris."
"Ah, yes, you told me." Marcel looked at his watch. "I need to run."
Marcel said, "Parlez-vous francais? I'm sorry, I don't speak Japanese."
In a sea of gray desks, amidst a swirl of dour, handcuffed men, prostitutes in skimpy, garish outfits, and staccato Japanese, Marcel sat on a metal chair. The air smelled of vinegary stress sweat.
The slick-haired, wiry detective wore a blue suit. Lieutenant Sato said, "No French, some English.  Please make statement."
"Well, I arrived in Narita from Paris yesterday morning and went to the Park Hyatt, in Shinjuku. After a fruitful day visiting Japanese clients, I heard a rap at my door. A policeman took me into custody for no stated reason, and now I'm talking to you."
"Mr. Laurent, please look television screen. This is video from outside your hotel. See?" The detective paused the video. "Please confirm image is you, Mr. Laurent."
"Yes."
"Watch." The detective restarted the video. A Japanese man in his thirties stepped out of a black limo. "See gray suit man?"
"Yes."
The video continued. In it, Marcel reached down behind the man. People churned past and obscured the scene. In the next unobstructed view, Marcel rolled his luggage toward the hotel entrance.
The detective said, "Mr. Laurent, what you pick up?"
Marcel's face flushed. "Nothing."
The detective stood and pointed his finger. "You picked up what gray suit man dropped."
Marcel raised his hands. "No. I didn't."
The detective's jaw tightened. "Where hide?"
"I didn't hide anything."
"Mr. Laurent, my name is Briggs." The American lawyer had a black goatee. They sat in a cell smelling of urine and vomit.
Marcel fingered a black iron bar. "The package they seek must be very valuable."
"A letter from Japan's Defense Ministry being hand carried to the U.S. Ambassador at the Park Hyatt outlining how Japan would respond to scenarios of North Korean aggression. The police believe you pocketed the note when the courier dropped it at the hotel."
Marcel's eyebrows rose. "How do they know where it was lost?"
"They don't, but in the video you're reaching for something. Mr. Laurent, perhaps you took the letter innocently, but the police will charge you with espionage. The Japanese have good reason to be paranoid about North Korean spies. Japanese have been kidnapped, indoctrinated in Pyongyang, and reinserted into Japan. If you return the letter now, I'll negotiate, but the outcome's not certain."
Marcel's eyes widened.
Briggs continued. "The legal system in Japan, like France, is based on the Napoleonic Code: no presumption of innocence. The police can interrogate you for weeks, although with the video evidence they could alternatively indict quickly. Conviction rates in Japan are virtually one-hundred-percent. Prison is harsh, but for foreigners it's indescribable. You will be isolated and abused by both inmates and guards. You understand, I'm talking sexual abuse."
Marcel's face went ashen.
Briggs leaned back. "You picked something up?"
Marcel looked away. "I didn't want to tell the detective."
"Why not?"
"It's embarrassing. A flyer from a love hotel in Kabukicho, the red-light district in Shinjuku."
"If it was just a flyer…"
"I went to Kabukicho last evening."
Briggs cleared his throat. "I see. You need to tell Sato what you've told me."
In an industrial gray windowless room, Sato sat at a steel table, arms crossed. Marcel and Briggs sat opposite.
Briggs said, "Lieutenant, you searched Mr. Laurent's hotel room and luggage. He doesn't have the letter."
Sato grunted.
Briggs turned to Marcel. "Tell him."
Marcel gulped. "I picked up a Kabukicho flier in front of the hotel."
"Ha." Sato slapped his knees and rose.
"Wait," said Briggs. "Let him finish." He turned toward Marcel. "Tell the Lieutenant about your Kabukicho experience."
Sato put hands on hips.
Marcel said, "Dark, crowded streets set aglow with multi-colored neon. Pachinko parlors' clunking steel balls. Surly men with full body tattoos. A friendly African, Teddy, introduced me to Mei, shy giggle, and purple hair."
Sato sat down.
"She wore a mini-skirted nurse's outfit with white stockings, garter-clipped at her thighs…"
Briggs held up his hand. "That's enough detail. Lieutenant, you know that the yakuza control these brothels. Mr. Laurent took quite a risk." He turned to Marcel. "Tell the Lieutenant what was on your mind."
Marcel shrugged his shoulders. "My boss hates me. This will be my last trip to Tokyo. I wanted a memorable experience."
Briggs said, "Spies don't act this foolishly. You have cameras in Kabukicho. You can confirm Mr. Laurent's story and which establishment he frequented. Question the girl."
Sato stroked his chin. He counted off his fingers. "I need speak your wife, employer in Paris, and business clients in Tokyo. See if you honest businessman you claim."
Marcel blanched. "But you won't mention Kabukicho?"
Sato smiled. "No way keep secret."
Briggs said, "Absolutely, go ahead."
After Marcel's release by the Japanese police, he was on the first flight to Paris. His apartment had been emptied except for a blue, flower-patterned armchair that he hated.
He found Helene in the bedroom with her coat on. She bristled. "A Japanese prostitute." Helene turned away. "How can I face people?" Helene clicked the latches closed on her suitcase.
"Where are you going?"
"I'm taking mother to Provence. Thank God both the country house and the flat are in my name. I sold the apartment. You'll need to be out in a week. I left your clothes, and the keys to that ridiculous red Morgan roadster. Oh, and your favorite armchair. Goodbye."
Marcel's assistant, Françoise, answered his office phone. She was blond with a pug nose, divorced, in her late thirties. "Marcel, there's someone sitting in your office. I was ordered to clean out your desk. Petit insisted that I transfer you when you called. What's going on?"
"Just transfer me. We'll talk after."
Petit was ebullient. "Laurent, so nice of you to call." Petit laughed. "Arrested, and debauched with a Japanese prostitute. You made my conversation with the board easy. It was unanimous. The severance agreed was generous, and they didn't touch your pension. We want you out without a scandal. Don't come in. Your company pass has been deactivated. I'll send the check. Au revoir." The phone clicked off.
Françoise picked up on Marcel's first ring.
Marcel said, "I've been retired."
Françoise's voice was hesitant. "I'm so sorry. Would you like me to bring your things to you?"
"Yes. Listen. Helene left me."
Françoise's voice lightened. "Oh, Marcel, I'll be right over."
Marcel hummed La Marseillaise. He luxuriated in the blue-flowered armchair. The cushions must have softened while he was away. The door chime signaled Françoise's arrival. He smiled. Voltaire was right, tout est pour le mieux– everything happens for the best.
#
Published by Yorick Magazine, October 2013