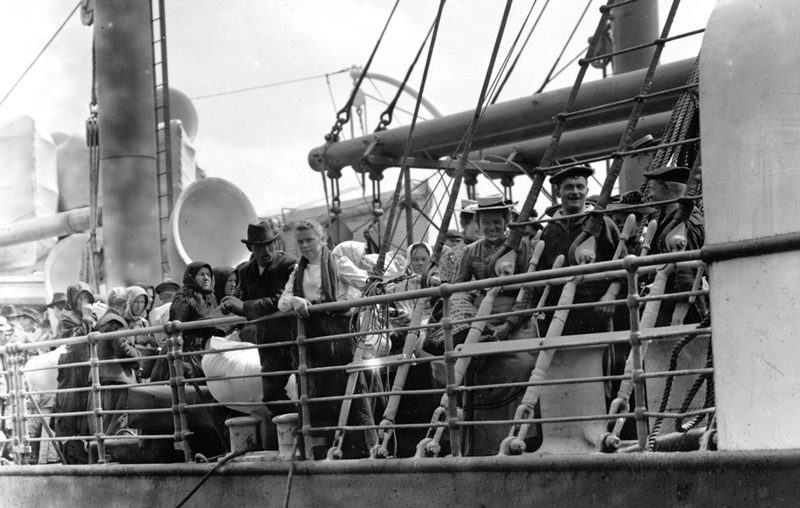 Part 1

The great wave of Italian immigrants to the United States started after Italy's consolidation in 1870, but il Risorgimento, did not create a nation. As one statesman put it, "Italy has been made. Now we must make Italians." The south of Italy, or Mezzogiorno, spoke different languages, had been dominated for centuries by foreign powers, and had distinct cultures. Many in the north of Italy held southern Italians in disdain. The south was already poor when Italy was united. The policies imposed by the north made economic conditions worse. As a result, many Italians emigrated to North and South America to find work.
In Argentina, Italians were early immigrants and welcomed. Pope Francis's parents were Italian immigrants. In Brazil, Italians replaced freed blacks on coffee plantations. Treated little better than slaves, Italians moved to other pursuits. Today the richest state in Brazil, Sao Paulo, has more people of Italian heritage than the founding Portuguese.
The Italians who arrived in New York found the Irish and Tammany Hall running the city. If an Italian wasn't a mason, a tailor, a barber, or a shoemaker, and didn't open a shop with his family, he was consigned to manual labor. The padroni system for finding employment was Italians exploiting Italians. Workers were often recruited in Italy and controlled by a padrone in New York who took a cut of their wages. As new immigrants to the U.S., Italians occupied the bottom rung on the socio-economic scale. Often, they were used as "human steam shovels" to build the skyscrapers and subways of New York.
Birds of passage was the name given to Italians of the late nineteenth and early twentieth-centuries because they were the first U.S. immigrants who returned to their home country. Many made multiple trips to earn money in the States. After World War I, when U.S. immigration laws tightened, Italians could no longer guarantee their return, so many decided to stay. That's when they brought their families.
Part 2
The year 1870 marked il Risorgimento, the year Italy became a unified state. Italy formed a common government, but hadn't a common culture or language. Living conditions in the Mezzogiorno, southern Italy, were particularly hard. Most people lived in poverty and the policies of the new Italian government exacerbated economic difficulties. Italians began to abandon the country in record numbers to improve their economic lot. In fact, people were the country's most successful export.
From 1870 to 1920, 8.8 million Italians settled in three, new-world countries, the United States (5 million), Argentina (2.4 million), and Brazil (1.4 million). Italians immigrating to Latin American didn't face the competition from earlier immigrants that Italians faced in the United States. The Latin economies were also less developed. A number of factors encouraged these mass migrations. All three nations had pushed aside indigenous peoples and wanted settlers and citizens from Europe. In Brazil, the end of slavery (1888) and expanding coffee plantations stimulated a government subsidized drive for Italians to replace emancipated Africans on both plantations and in Brazilian mines. Argentina believed that to govern was to populate, and Italians immigrated to both the cities and plains. Financiers sought new investments outside of northern Europe and Great Britain, and new money created millions of unskilled jobs.
The United States was huge, but sparsely populated. Western migration facilitated by railroads plus enormous industrial growth drove the need for cheap labor and to replace citizens moving west. Most Italians were employed as unskilled laborers and industrial workers. Italians in the U.S., worked the mines for the iron and coal demanded by new factories, built the skyscrapers, subways, canals, railroads and tunnels and worked in factories. Manual laborers constituted over ninety percent of Italy's migrants.
Early Italian immigrants were predominately males, evidence of their intention to return home. These early immigrants sought pane e lavoro – work and bread, and were termed "birds of passage" because they took advantage of seasonal labor opportunities and then returned to their home village. In 1900, for example, it's estimated that roughly half the Italians who immigrated to Buenos Aires or New York returned to Italy. Italians were the first immigrants to the United States who repatriated back to their home country in large numbers.
From 1870 to 1900, the majority of Italian immigrants came from the north and went to Brazil and Argentina. After 1900, Italian immigrants tended to be from the south and came to the United States. As males became more comfortable and adapted to their new surroundings, they began to bring their wives and children. Thus, an increase in women's immigration signaled the beginnings of permanent migration.
Part 3
Southern Italians were eighty percent of the immigrants to New York where their labor was needed for growing commercial and industrial activities in Manhattan. The majority were general laborers. Those with skills were merchants, stonecutters, mechanics, mariners, masons, barbers, seamstresses, and shoemakers. Women most often worked in the garment industry. Italian immigration was composed principally of poor people who hadn't enough money to pay transportation expenses from the ports of disembarkation, and therefore had to find work immediately. That's why the padrone system of employment flourished. Padroni were labor agents who sold jobs to men eager to migrate. Many padroni were sub-contractors building railroads, tunnels, and canals with crews of migrant laborers. While immigrants were preyed upon by other Italians and relegated to the lowest economic tier, a comparison of wages in Italy versus America demonstrates that despite the cost of travel and the cut of the padrone, Italians earned far more money in the States than they could've in Italy. In Italy, patron-client relationships weren't viewed as a limit on individual liberty. On the contrary, patronage was an integral dimension of Italian life at every level of society. While patronage corrupted Italy's government, Italians viewed a patron relationship as an advantage and those without patrons as truly powerless.
The early literature on Italian immigration to New York emphasized the squalor of their living conditions. While this was undoubtedly true, something about life in New York eventually stemmed the tendency for Italian '"Birds of Passage" to repatriate to Italy and attracted people to remain in the United States. Italians immigrated to familiar social networks, where kin, friends, and neighbors had previously settled. U.S. factories transformed Italians from agricultural peasants into wage-earners. In New York, the southern Italian work ethic and belief in family encountered a degree of economic mobility and city-life social interactions not available to most men or women in the agricultural-orientated villages they left, and they found this new economic and social order attractive. Eventually a critical mass of Italians from the same village, same area, or same family had come to New York. Italians adopted the United States as a permanent home, and more men began to immigrate with wives and children.
Part 4
The United States is a country of immigrants. Ironically, anti-immigration views have a long history. We can cite John Adams's signing of the 1798 Alien and Sedition Acts, Millard Fillmore's run for the Presidency on the 1856, Know Nothing/American Party ticket opposing Irish-Catholic immigration. The Chinese Exclusion Act was passed in 1882. A Wisconsin and an Illinois governor were defeated for promoting anti-German immigrant laws in 1890. In 1907, an unofficial agreement between governments stopped Japanese immigration to the United States.
In the 1890s, the Immigration Restriction League of Boston, New York, Chicago, and San Francisco believed southern and eastern Europeans were racially inferior and threatened the American way of life. The Dillingham Commission consisting of both Senate and House members agreed with the Immigration League and in 1911 recommended reducing southern and eastern European immigration. As a result, United States laws were tightened after World War I. "Birds of Passage" Italians needed to decide if they would stay in the U.S. or, if they returned to Italy, have their return entry barred.
Jacob Riis in How the Other Half Lives, an 1890 exposé on the deplorable conditions of tenement life, labeled Italians as the worst of the new immigrants and "dirtier than the Negro." Italian immigrant labors were given the worst jobs, and while they were instrumental in building New York's subways and skyscrapers, were often used like human steam shovels. In Birds of Passage, An Italian Immigrant Coming of Age Story, small asides by Americans were used to recall these biases against Italian immigrants.
Today, there are many valid concerns relating to illegal immigration. However, some opponents of immigrants echo themes from the past. Ironic, for a country of immigrants.
Part 5

My father and grandparents all emigrated from Naples to New York. As with the character, Guido Basso in Birds of Passage, both my grandfathers were ragmen. Their labor was dirty and backbreaking, but they were their own padrone. My father was the last immigrant in my family. He acquired just a seventh-grade education before he set out to work. Unemployed for a long period during the Great Depression, he found a job in a warehouse. Working rapidly to impress the boss, he reached up for a box atop which a vase had been left. The glass knickknack slipped and shattered onto the concrete floor. My father was fired on the spot. Not deterred, he started his own business.
When I was growing up, if my father and I passed a man doing hard manual labor, he would say to me, "See that? Go to school."
My mother was one of five daughters employed at home doing piece work so her family could earn enough money to leave the tenement. Eventually her family purchased a home in Brooklyn.
A number of readers have remarked about the strong female characters in Birds of Passage. I grew up amongst women with inner strength and generous hearts.
Many Italian-Americans stand upon the shoulders of those intrepid enough to try and make a better life in a new country. Birds of Passage is not about my family, but I'm old enough to have known people who were born in the nineteenth century. In the novel I tried to capture how Italian immigrants of that generation thought and acted.